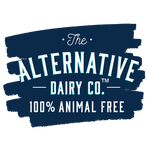 The Alternative Dairy Co.
Alternative by nature, Alternative Dairy Milk Co. plant-based milks are for coffee-based people.
- No dairy, no compromise. All taste. No animals were harmed in the making of our plant milks. Good for you, keeping the planet smiling. 

- Only good ingredients, naturally low in sugar, non-GM, free from cholesterol and carrageenan
- Perfect performance. Consistent stretching and canvassing, providing ideal texture and creaminess for pouring latte art.