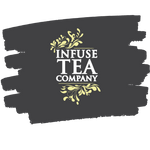 Infuse Tea Company's passion for tea began back in 2002
when they started up a coffee roastery/café. Along with serving a quality good coffee we also wanted to offer our clientele a good cup of tea not just your standard supermarket bought tea bag, but a superior quality loose leaf tea.
From this, they soon discovered the excitingly vast range to different tea and tisanes available. Their standard range of 5 – 6 varieties soon turned into a plethora of options and from that point on we began selling tea both retail through the café and wholesale to other cafes and restaurants along with the coffee.